TOURNAMENT PASSES & MERCHANDISE 
Tournament passes and daily admission will only be available online only.  Due to COVID-19 no cash will be exchanged at the gate.  Proof of purchase will need to be presented at the entry gate via your smart phone. 

TOURNAMENT PASSES
TICKET PRICES: Tournament Pass (Mon – Sun) $ 40.00; Daily Pass $ 10.00; 12 and Under and 65+ Free 

BUY YOUR TOURNAMENT PASS TODAY!
Once you have purchased your tickets through the above link, you will receive a receipt and have the option to print, text, or add your ticket to apple wallet. Your ticket will look like the example ticket below.  You must have your ticket ready to be scanned upon entry into the park each time you enter.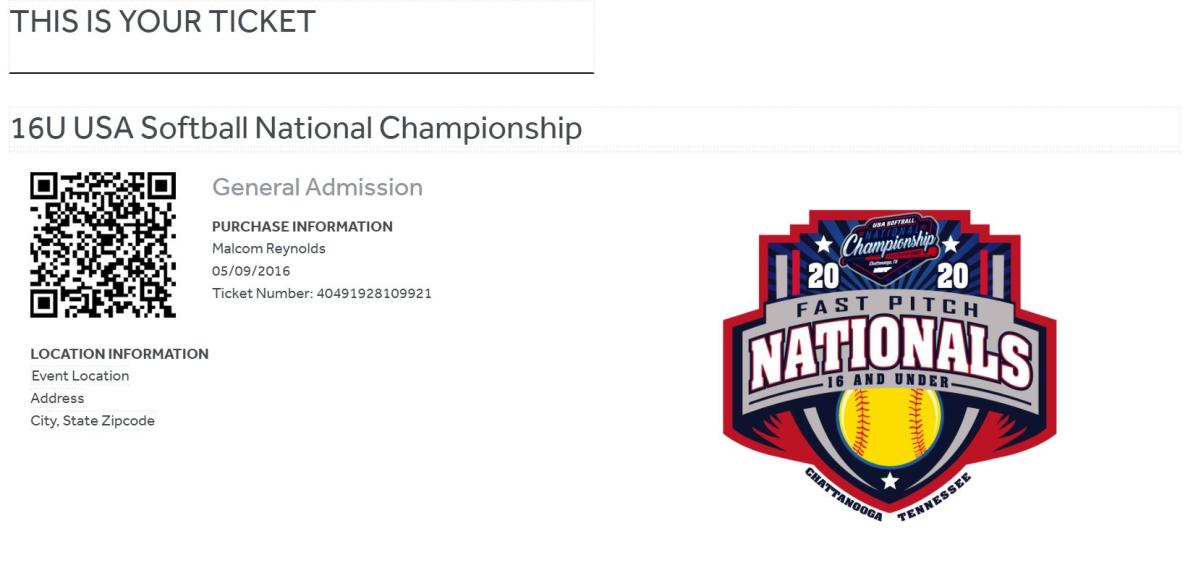 Upon arrival at the gate we will scan your individual tickets. If you have a week long tournament pass we will take your photo and verify you are using the same ticket each time you enter the park.
COLLEGE COACHES 
Collegiate coaches with proper ID will be admitted free of charge. 
MERCHANDISE
Merchandise will be on sale throughout the tournament at each venue. Teams may also order tournament shirts in advance online.  All orders made online must be picked up at Team Check-In at Camp Jordan.

BUY YOUR TOURNAMENT MERCH TODAY!