Just because you live in a city doesn't mean your jogging scenery has to be dirty gutters, cramped sidewalks, and zero greenery. In fact, some of the most urban burgs in America have trails that'll make any suburban fun-runner jealous, whether it's with spectacular vistas, nature for days, or thousands of bats (that's actually a good thing). Don't take our word for it -- look at them pretty pictures right down there.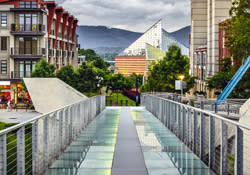 Tennessee Riverwalk in Chattanooga, TN
The Riverwalk stretches from the downtown Chattanooga area to the TVA's Chickamauga Dam. The trail diverges from the river at one point to go through the Amnicola Marsh, which should make your final leg even more scenic or scary, depending on how many times you read Hound of the Baskervilles. You can also reward yourself with some gelato from Milk & Honey -- which sits at the end of trail -- because nothing keeps you motivated to run like a thousand calories worth of sugar.
Click here to read the full article.
Published by Thrillist on March 4, 2016: Written by Stephen Rubino