If you are looking for some incredible family fun this spring, just hop in the car or on a plane to Chattanooga for their Spring Break Safari.
The Spring Break Safari is all about making the city of Chattanooga all about kids. Your child can step into the shoes of an explorer, a pirate, a zoologist and more as you explore this gorgeous Tennessee city together. Here are 10 Reasons to Visit Chattanooga with Your Family This Spring.

1. RUBY FALLS
Go deep inside Lookout Mountain into Ruby Falls. Everyone must see Ruby Falls at least once in your life. You will walk away inspired and in awe. This is America's deepest commercial cave and tallest underground waterfall open to public viewing. The 145 foot waterfall that just happens to also be 1,120 feet underground will amaze your kids. The cave is colorfully lit making it all the more beautiful to view the natural formations and wonders inside. After you visit inside the cave, take in the view from Lookout Mountain tower. There is even a playground outside for the kids.
You will all leave Ruby Falls excited about exploration and ready to take on another adventure in Chattanooga.
2. ROCK CITY
Pull on your walking shoes and have your cameras ready when you visit Rock City. This is one of the most beautiful and unique places in the South. The walking trail here is 4,100 feet long and all along the way you can see ancient rock formations. Keep on walking because there is a 140 foot waterfall rushing off Lookout Mountain. However, the most incredible part of Rock City is the panoramic view of seven states! Look for the seven states marker to take in that view.
If your kids are feeling extra adventurous, they will love the Swing-A-Long Bridge that spans nearly 200 feet and they will enjoy the Fairyland Caverns with the world's most loved fairytales. Squeeze through the Needle's Eye and take in all that these glorious rock formations have to offer. Your kids will feel like true explorers while navigating Rock City.
3. HIGH POINT CLIMBING AND FITNESS
Let your kids get brave and climb to high heights all on their own at High Point Climbing and Fitness. Even young children can give rock climbing a shot here. This premier rock-climbing facility includes 30,000 square feet of climbing and bouldering space indoors and outdoors – making it one of the nation's largest gyms. The Kid Zone is 3,000 square feet of space designed specifically for young climbers. If you've never climbed before, this is the perfect place for an introduction to try something new. There are special climbing areas for all skill levels.
People are literally climbing all over this facility, even on the transparent walls outside! The entire place is carefully designed, artistic and colorful. High Point Climbing and Fitness also has cross training, yoga and aerobics. If you are looking for an active and challenging activity this spring, you have to check this place out. It is unlike any climbing place you've ever seen.

4. TENNESSEE AQUARIUM
The Tennessee Aquarium is a delight for anyone who visits. With two floors to explore, your child will go from the mountains to the sea as she takes in all the amazing life there is in the water.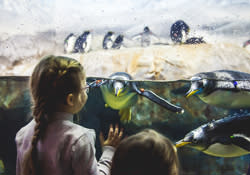 Come face to face with penguins. They are very playful and put on a show for everyone with their natural antics. The jellyfish exhibit is unlike anything you've ever seen. If you take the Backstage Pass tour, you will get a behind the scenes tour that includes a visit to the baby animal nursery! During the Spring Safari, kids who visit the Aquarium can be a critter for a day.
The ocean area takes your breath away as you walk through caverns, and the creatures in the water swim all around you, including over your head.
Kids learn best from hands on experiences, making the touch tanks a favorite attraction.
Your child can explore what it would be like to be one of the amazing creatures in the aquarium like an otter or a shark.
The Tennessee Aquarium is the best aquarium we have ever been to and we know you will love it as well.

5. THE CHATTANOOGA ZOO
What kid doesn't love the zoo? The Chattanooga Zoo does not disappoint with over 300 animals representing over 130 species from around the world. Your kids will be inspired to care and protect wildlife as they interact with all the animals throughout the zoo's engaging displays and activities.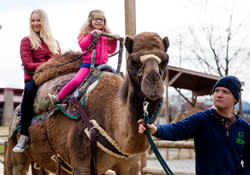 In addition to seeing animals they have never seen, kids can ride a camel, and the petting zoo is fun, especially for younger children. The zoo is well designed with different types of exhibits that allow the animals to be viewed in a habitat that is like what they would live in naturally.
Your kids will leave the zoo ready to learn even more about the animals that we share our planet with, and they will never forget their day at the Chattanooga Zoo.
Click here to read the full article.
Published by The Daily Mom on April 2, 2016: Written by Elena Ollick