Summer's great and all, but here at TripAdvisor we (and our traveler community) sure do love the fall. Cooler temperatures, russet leaves, off-season bargains… It's all pretty enticing when it comes to getting away as a family—It's no wonder we're already planning our fall family vacations!
We've picked out family-friendly locations across 14 states to give you plenty of choice for that fall trip. And if you're looking for a great place to stay that won't break the bank—each spot here has its own unique range of quality vacation rentals, catering to all budgets and group sizes. Take your pick of luxury mountain-view condos, cute cottages, downtown apartments, quiet cabins and more!
Why choose a vacation rental, you ask? Having your own facilities can prevent many an issue for traveling families. You'll have a full kitchen and plenty of appliances and amenities at your disposal, so you're ready to feed, launder, and organize yourselves around whatever the day might bring. You'll also benefit from more living space for your money, maybe multiple bathrooms, and perhaps even a private garden or pool to enjoy, without having to compete for space with other guests.
If this all sounds like an ideal fall family vacation, read on for more info about our chosen destinations and the child-friendly activities that await. And once you've decided on a location—and the perfect rental—you can book your tours, activities, and attractions right on our site, too!
CHATTANOOGA, TENNESSEE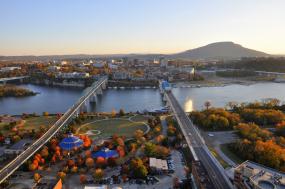 With its alligators, penguins, and rooftop butterfly garden, the Tennessee Aquarium is one of Chattanooga's most popular family-friendly attractions. You can hop on the classic carousel at Coolidge Park or play in the water fountain. Experience an interactive haven for kids at the Creative Discovery Museum. Older children might also like the Classic Arcade Pinball Museum. You can also get to know downtown Chattanooga on this two-hour Segway tour, suitable for teens and adults.
Click here to read the full article.
Published online on August 7, 2019: Written by TripAdvisor