Certain cities, you visit for the food. Others, you visit despite the food. The old guard of Important Food Destinations, you know: the San Franciscos, the Chicagos, the New Orleanses. So who are the up-and-comers -- the places whose culinary reps should be rising fastest? We put the question to dozens of veteran travelers and found some surprising answers. Some of these spots are out-of-the-way, mid-sized towns; others are big cities where some combination of abundant talent, great farms and fishing, and respect for traditional food have made them bona-fide dining destinations.
We guarantee you've passed through at least one of these towns without thinking twice about the food. Next time you visit, though, take a moment to stop and smell the s'mores burger.
CHATTANOOGA, TENNESSEE
A mountain town hitting the culinary heights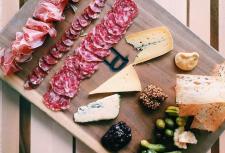 When you're a small city two hours from Nashville and Atlanta, it can be hard to get the attention you deserve. Chattanooga flies under the radar but keeps a lot up of aces up its sleeve -- its outdoorsy, affordable, and a dammed delicious place to spend a weekend. Start with back-to-back meals at restaurants by James Beard semifinalist Erik Niel. His charcuterie is aged in-house at Main Street Meats, and he sources cheeses and beef from Tennessee farms. Then, it's on to Easy Bistro & Bar for a Southern style brunch -- order the bacon omelet, tomato pie, and buttermilk biscuits. Another James Beard contender is Daniel Lindley, who cooks up rustic wood-fired pizzas and handmade pastas at Alleia...
Click here to read the full article.
Published by Thrillist on October 19, 2018: Written by Thrillist Travel, Chattanooga piece by Tim Ebner