With these views, you might never want to leave.
Nestled between the snaking Tennessee River and the Appalachian mountains, Chattanooga has earned its official nickname as the Scenic City. Once a bustling industrial hub for cargo traveling by river and rail, today Chattanooga promises no less of an adventure for visitors. Efforts to revitalize the city have opened opportunities to engage with
While there are many things to miss about summer once it has left us, we can't help but get excited about the start of a new season full of stunning scenery, cozy fires, and warm seasonal dishes. Ah, fall—how we love you so. From the cascading colors of autumn leaves to the abundance of fun fall activities, the turn of the season is quite something, even down here in the South. We're privy to some breathtaking mountain views, and there's no better way to experience them than a relaxing (or adventurous!) mountain getaway. Whether you're looking for outdoor excursions, great scenery, or quaint villages, these charming Southern mountain towns should be next on your list to visit this fall.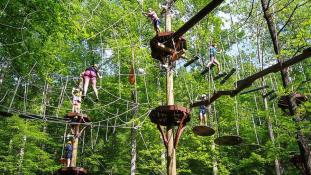 Chattanooga is no stranger to lists of top destinations in the country. As mountain getaways go, it offers the best of both worlds—urban dining, entertainment, and nightlife, plus beautiful scenery and plenty of outdoor adventure—some of it right on the riverfront near the Tennessee Aquarium.
Click here to read the full article.
Published by Southern Living on September 12, 2017: Written by Kaitlyn Yarborough