Plan a romantic weekend getaway to Chattanooga and explore the city's diverse culinary scene. Chattanooga's restaurants serve an array of cuisines from around the world, including Southern comfort food, American, French, Italian, Thai, Greek and Mediterranean cuisine. Whether you are in the mood for a succulent burger, an amazing pizza, tacos, seafood or sliders, the city has it all. Dine at an intimate eatery downtown or have lunch with a view of the water.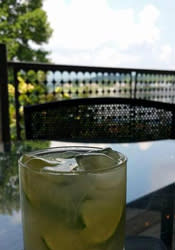 Boathouse Rotisserie & Raw Bar offers some of the city's best riverfront dining and specializes in steak and seafood with regional influences – much of it cooked on a unique wood-fired grill, designed and constructed by the owner. Savor incredible dishes like Truffle Mushrooms Fried, El Scorcho Shellfish Stew, or the Coarsely Chopped Mignon Steak Sandwich. Cocktails, beer, and wine are also available.
Seasoned restaurateur Lawton Haygood and his wife Karen opened Boathouse in 2002, and they also own the local Canyon Grill. You will find this refined restaurant on the banks of the Tennessee River in the heart of Chattanooga's stylish Riverwalk.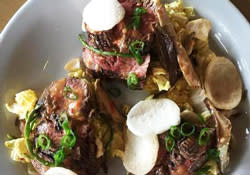 The Flying Squirrel Bar provides patrons with eclectic Southern comfort food, tasty drinks, and a great time. Savor delicious dishes such as the Braised Brisket Sliders, Chorizo Sloppy Joes, or the Hudson Valley Duck Breast or stop in for brunch and try the Biscuits & Gravy.
The restaurant also serves craft beer, wine, and cocktails. Rock climbers-turned-entrepreneur friends Max Poppel and Dan Rose opened the eatery in 2013; they are also the owners of The Crash Pad next door. Flying Squirrel bar is located in the heart of downtown Chattanooga.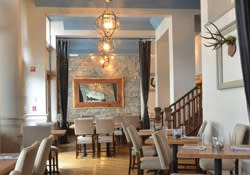 TerraMaé is a sophisticated, upscale bistro serving regional cuisine made from fresh, local, seasonal ingredients.
Enjoy lovingly prepared dishes such as Smokey Porcini Dusted Salmon or Sherry Glazed Beef Short Rib. Or stop in for Sunday Brunch and try the Mountain Man breakfast. Expertly handcrafted cocktails are also available, as are selections from an extensive wine list.
Hospitality industry expert Mark Oldham opened TerraMaé in 2012 and brought in Executive Chef Shelley Cooper (who has Appalachian and Southern roots) to lead the team. You will find this beautiful bistro nestled between the Westside and Fort Wood neighborhoods.
Public House Chattanooga is a hip, upscale tavern-style restaurant that serves incredible regional, Southern cuisine – all made from fresh, local, and seasonal ingredients.
Savor expertly prepared dishes like the Fried Chicken Livers, Grits, & Tabasco Butter, the Red Wine Braised Pot Roast, or the Stuffed Quail. A nice selection of wines is also available, and you can visit The Social, the restaurant's bar, for spirits and cocktails.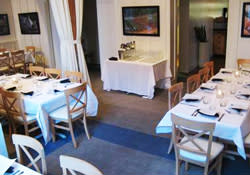 Veteran restaurateur, Nathan Lindley (who formerly owned Chattanooga's St. John's restaurant), opened Public House in 2009. Enjoy the friendly atmosphere at this unique eatery, located at the south end of Chattanooga's Warehouse Row.
Chattanooga's popular Easy Bistro + Bar serves ingredient-focused French Bistro comfort foods with a modern twist. Savor incredibly prepared dishes such as the Rohan Duck 2 Ways, Smoked Cinderella Pumpkin Garganelli, and Pei Mussels & Moules Frites.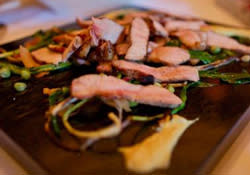 They have an expansive wine list and a nationally recognized cocktail program. Restaurateur power couple Executive Chef Erik Niel (a New Orleans native) and his wife Amanda are the proud owners of Easy Bistro + Bar, and they opened the place in 2005.
Interestingly, this charming eatery is located in the world's first Coca Cola bottling plant in downtown Chattanooga just across the street from the Tennessee Aquarium.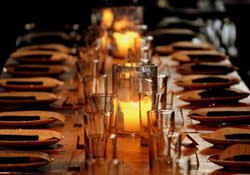 Alleia is an upscale restaurant that serves lovingly prepared rustic Italian cuisine. Treat yourself to amazing dishes like Benton's Bacon Wrapped Dates, Angel Hair with Gulf shrimp, soffrito, tomatoes, or the Quail Breast. They also have delicious pizzas baked in their handmade masonry oven. Wine and beer are also available, and be sure to save room for gelato.
Veteran restaurateur Chef Daniel Lindley, former owner of the iconic St. John's restaurant, opened Alleia in 2009. Enjoy the cozy atmosphere in this charming eatery, which is situated inside the Old Harrington building in the rejuvenated Southside neighborhood.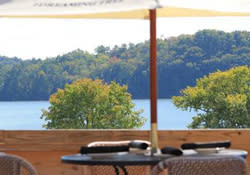 Lakeshore Grille is a local favorite that serves modern American cuisine in an upscale, warm atmosphere. Take in majestic views of Chickamauga Lake as you savor tasty dishes such as the Crab-Crusted Tacos, Cashew Bourbon Chicken, or the Sausage & Shrimp Penne. Or stop in for Sunday Brunch and try the Smoked Salmon Cakes Benedict. Beer, wine, and cocktails are also available.
Executive Chef Robert Barclift and his family own and operate Lakeshore Grille, which they opened in 2014. Their cozy, intimate eatery is located above Chattanooga's Lakeshore Marina in the space that formerly housed Top of the Dock.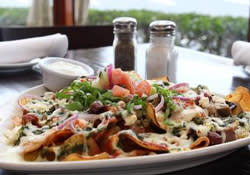 Acropolis Grill serves some of Chattanooga's most delicious Greek and Mediterranean cuisine, made from fresh, locally sourced ingredients. You can't go wrong with tasty dishes such as the Greek Nachos, Moussaka, Eggplant Napoleon, or the Penne Vienna. Don't miss their Spanakopita. They also have a full bar with daily specials.
Veteran restaurateur and founder Teddy Kyriakidis first opened Acropolis in 1995 and his family continues to own and operate the restaurant today. You will find this warm, friendly eatery near Chattanooga's Hamilton Place Mall in between the Meadow Lawn and Twin Brook communities.
Click here to read the full article.
Published on November 18, 2015.