Max Poppel and Dan Rose became pals when they were students at Skidmore College in Upstate New York. The avid rock climbers bonded over bouldering. When a climbing competition took them to Chattanooga, they were instantly wowed. "The quality, quantity and proximity of the rock climbing to an actual city is really unrivaled," says Poppel. "Stone Fort (Little Rock City) is only 25 minutes from downtown yet it's an amazing bouldering area." They found the vibrancy of Chattanooga to be as alluring as the rock climbing and each ended up moving there.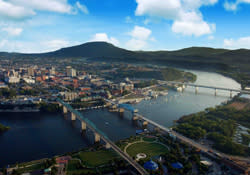 In addition to rock climbing, hiking and biking, Chattanooga has easy access to outdoor adventures of all varieties even whitewater rafting, kayaking and hang gliding. Voted Outside Magazine's "Best Town Ever" "we have everything short of giant mountains," says Poppel. "There are running trails, rivers and amazing world-class amenities."
However, they noticed there was a lack of a base camp for the climbers coming through town. "Here's this amazing climbing in an actual city, yet there was no community hub. That really blew our minds," says Poppel. As he explains many climbing locales have iconic campgrounds in the middle of nowhere, like the famous Camp 4 in Yosemite. "We wanted to create a community for all of the outdoor adventurers here."
They had stayed in hostels in the past and were attracted by the great qualities of hostel lodging like the affordability and welcoming communal nature. Poppel and Rose believed that the Chattanooga community and visitors, especially those coming for climbing and outdoor adventures, would embrace it. They were also aware of the potential cleanliness issues which they could address.
Click here to read the full article.
Published by Parade on June 8, 2016: Written by Jeryl Brunner