If feeling cozy is important to you, it may be time to consider a move down south.
For the third year in a row, Honeywell Heaters has released their list of the Top Ten Coziest Cities In America, and we're definitely ready to pack our bags.
(Yes, spring is predicted to come early, but who can resist a cozy, peaceful home until then?)
To determine which cities offer the best in cozy comfort, Honeywell teamed up with environmental scientist Dr. Ted Myatt, and just like last year, they considered how many restaurants, coffee shops, museums, florists, breweries, and bed and breakfasts each area has. This year, however, they added a few more factors as well, including specialty grocery stores, bookstores, and bakeries (AKA places that instantly make you feel warm and fuzzy).
Topping the list: Asheville, North Carolina, while last year's winner, Portland, Maine, fell to number five. Grab a blanket and read on to see the full list, below.
10 CHATTANOOGA, TENNESSEE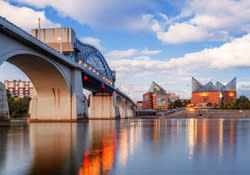 Yet another newcomer to the list, Chattanooga earns its cozy badge of honor thanks to its large number of bookstores and rapidly growing downtown area.
Click here to read the full article.
Published by Elle Decor on February 9, 2016: Written by Bridget Mallon