An overwhelming number of nominations was received, all of which represented a variety of sports. And despite the fact there was so much variance in the type of event and athletes served, all had the common denominator of playing a vital role in the local economies where the events were hosted. These winners represent the most notable success stories and illustrate quantifiable results from each of the event-destination partnerships. Working together, these event organizers and host destinations achieved outstanding economic impact, an exceptional experience for athletes and spectators, media attention to the destination and much more.
Recognition of the economic impact from our industry continues to build on the Sports Destination Management mission: dedication to the advancement in understanding the distinctions of planning, implementing and managing sports events and travel, particularly the event/destination relationship. As the cornerstone for successful events, the relationship between the event organizer and host city is a frequent topic throughout the pages. It is our pleasure to honor the most outstanding of those relationships nominated, and to recognize each of the partnering organizations involved.
Mid-to-Large Market Champions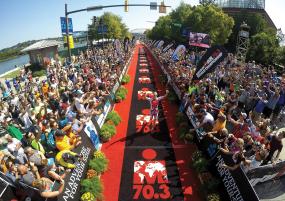 2017 Icy Hot IRONMAN 70.3 World Championships
Chattanooga Sports Committee
LOCATION: Chattanooga, Tennessee
Total Room Nights: 15,700
Total Economic Impact: $22,000,000
The 2017 Icy Hot IRONMAN 70.3 World Championships was the largest event ever produced in IRONMAN's 41-year history. A total of 4,500 athletes competed, representing 91 countries. Hosting this event has made Chattanooga the only city in the world to host a full-distance IRONMAN, a 70.3 IRONMAN and the 70.3 IRONMAN World Championship (which includes two events in two days). A total of 3,000 volunteers assisted in putting on the event, which drew 16,000 tourists and 20,000 spectators.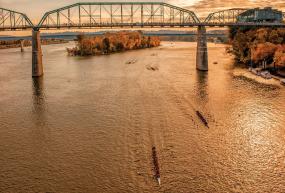 Head of the Hooch
Chattanooga Sports Committee
LOCATION: Chattanooga, Tennessee
Total Room Nights: 6,600
Total Economic Impact: $5,500,000
Head of the Hooch is one of the world's largest rowing regattas, with more than 2,100 boats racing over two days. More than 10,000 seats are rowed, with over 1,200 boats on Saturday alone, the largest in one day of any other regatta. Participants came from over 200 different organizations, in one year representing 21 states and four countries. About 1,000 volunteers assist with this event, which draws more than 15,000 spectators and is consistently recognized as the regatta to attend.
Click here to read the full article.
Published by Sports Destinations Management on Nov. 20, 2017: Written by Mary Helen Sprecher