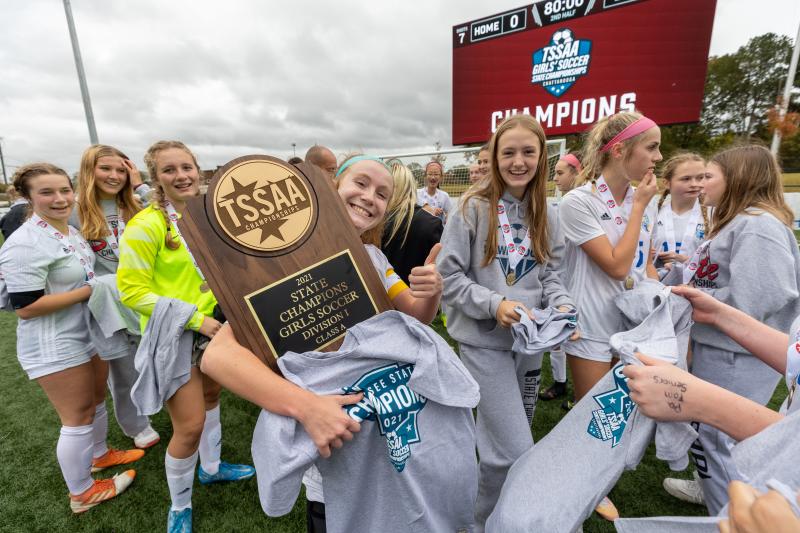 WHO: Chattanooga Sports, a division of Chattanooga Tourism Co., has partnered with Tennessee Secondary School Athletic Association (TSSAA) to host the return of the Girls' Soccer State Championships to Chattanooga for the third consecutive year.
WHAT: The championship event represents the pinnacle of high school female soccer in the state of Tennessee, bringing over 2,800 athletes and spectators leaving an estimated economic impact of $1.7 million in our community. This championship continues to be a cornerstone among the many championship events held in Chattanooga, further fueling its desired reputation as Tennessee's Title Town.
WHEN: October 25-28, 2023
WHERE: Semifinal matches will be held at the following high school venues across Chattanooga:
Chattanooga Christian School, 3354 Charger Drive, Chattanooga, TN 37409
Girls Preparatory School, 600 River Street, Chattanooga, TN 37405
Baylor School, 164 Raider Lane, Chattanooga, TN 37405
Championship matches will be played at CHI Memorial Stadium, 1 Stadium Way, Chattanooga, TN 37412, home of the Chattanooga Red Wolves.
A full schedule with qualifying teams and match locations can be found here.
Additional Details
Volunteer Opportunities
Would you like to get involved with this championship event? Chattanooga Sports is looking for individual and group volunteers to assist with varying duties, including parking, aid stations, and more. Learn more and become a volunteer online.  
Story Ideas
Athlete Experience
Chattanooga Sports recognizes the emotional significance of an athlete's defining moments and is dedicated to creating exceptional state championship experiences that forge unforgettable memories. The TSSAA Girls' Soccer Championship event provides a unique atmosphere where high school-aged players compete in a professional soccer team's stadium, complemented by various venue activations to enhance the overall experience.
Local Teams Slated for Excellence
Over the past six years, Chattanooga has proudly been home to five TSSAA Girls' Soccer State Championship-winning teams, and current statistics suggest that more local teams are in a strong position for notable success once again this year. Learn more about the championship event's history here.
---
The Chattanooga Tourism Co. serves the community by using visitor-generated funds to inspire people to visit and connect them with authentic Chattanooga experiences. Visitor spending contributes to a quality of place, resident savings, thriving local businesses, job creation, capital investment, and public services including education and safety. The 700+ Tourism Co. partners represent a variety of industries including lodging, dining, food and beverage, attractions, manufacturing, finance, government, healthcare, retail, and more.  
  
MEDIA CONTACT: Hannah Hammon, Chattanooga Tourism Co.   
Hannah@ChattanoogaTourism.com or 256-996-5788