Few things in life are better than eating an ice cream cone on a hot day. Like maybe finding your soulmate. Or learning how to do the dance moves from Will Smith's "Men in Black." And since we can't help you with your dating life or teach you how to take a walk with me, we opted to just eat all of the ice cream over the past year, in everywhere from college-town creameries, to desolate stretches of Maine, to BROOKLYN (?!?). We kept many from our original list of 21, and tried to get in some old-school legends we missed, and some new-school spots just waiting to be legendary.
So just throw on your classiest pair of elastic-waisted jeans and get ready to indulge your eyes in picture after picture of frozen perfection. And, as Will Smith said in the '90s, don't jeer us, we're fearless. Except in the comments section.
Chattanooga, TN
Clumpies Ice Cream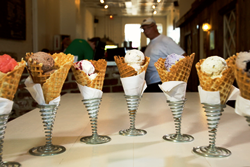 Fifteen years in the business, Clumpies was opened by the son of a third-generation candy maker, who turned the family's sweet tooth to the freezer section. Working in small batches, the creamery keeps things simple -- mostly -- with rich and creamy flavors, like chocolate chocolate chunk and butter pecan. And then not-so-simple with tongue-tingling, Pop Rock-infused Tutti Frutti ice cream. This does have candy-making genes, after all.
Click here to read the full article.
Published by Thrillist on May 16, 2015: Written by Kevin Alexander & Liz Childers