Hey, working mom, spring break is right around the corner, and we're betting you and your brood could use a reprieve from the daily work-school-winter-grind right around now. We know, though, that sometimes planning a family vacation may take a backseat to, say, that super-important presentation to the board of directors. Never fear; help is here. We've rounded up getaways around the nation that won't empty out your bank account, but will give your family a vacay that feels far away, even if it's just a short hop from home.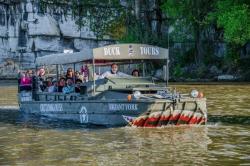 Chattanooga, Tennessee
This Southern charmer, nestled between a river and a mountain range, is so sure that you'll want to spend spring break here that they've created a Spring Break Safari & Scavenger Hunt for families that turns the entire city into a kid-friendly adventure zone through April 9, 2017. After you've finished your safari quest, explore on the river by adventure rafting or more relaxed Duck Boat tours, take a mountain hike or visit the aquarium, the zoo, kid's museum or the railroad museum. Of course, you could spend your free time sampling the amazing barbecue, which could be an eating adventure in its own right.
Where to Stay:
Thomas fan or train buff in the family? You're going to want to pull directly in to the Chattanooga Choo Choo Hotel, a historic converted railway terminal, where you can stay in a converted Pullman car (so cool!). Rates start at less than $200 per night.
Click here to read the full article.

Published by Working Mother on March 21, 2017: Written by Melissa Klurman