Chattanooga, Tenn., combines small town amenities, such as walkability and easy navigation, with big-city attractions like the Tennessee Aquarium and Rock City.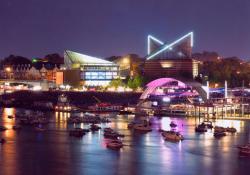 A little less than two hours from downtown Atlanta, Chattanooga is full of food, activities and adventures for families. With weekly summer events like the Chattanooga Market  (Sundays), Chattanooga River Market (Saturdays) and the Nightfall music series (Friday), there's certainly plenty to do.
"There's always something happening. Visitors can enjoy annual events, live music and entertainment, outdoor adventures to anytime fun at the attractions," said Candace Davis, marketing and public relations manager at the Chattanooga Area Convention and Visitors Bureau. "Nobody will be bored here."
Here are seven reasons why you will love exploring Chattanooga with kids.
1. Eat well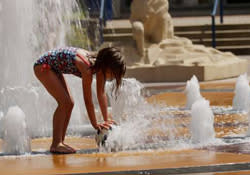 Whether you're looking for a quick lunch, a gourmet version of your kids' favorites, a locally owned sit-down restaurant or a sweet spot for dessert, Chattanooga has got you covered.
Start or end your day with Julie Darling Donuts, one of many restaurants located on Frazier Avenue in downtown Chattanooga. Head to Good Dog, also on Frazier Avenue, for gourmet hot dogs or Lupi's Pizza on Broad Street for handmade pizza with locally sourced ingredients. Local produce and meats also are on the menu at the Public House at Warehouse Row, which offers fine dining in a relaxed setting, plus a kids' menu.
Cool off at the end of a summer day with frozen desserts, such as The Ice Cream Show.
2. Play hard
With options like High Point Climbing, the Jump Park Trampoline Center and the Creative Discovery Museum, it's easy to find fun in Chattanooga.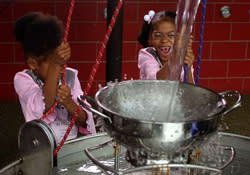 Kids and parents can jump by the hour at the 18,000-square-foot Jump Park, which also has games and food. The Creative Discovery Museum is a playful learning environment where kids can dig for dinosaur bones in the Excavation Station, get creative in the artist's studio or climb the two-and-a-half story RiverPlay structure. There is also a PlayGym for kids under 3 years old.
Or you can spend an afternoon at Lake Winnie Amusement Park, located just outside of Chattanooga and open from April-October. The park has kiddie attractions, family rides and thrill rides, including the brand new Twister thriller, to make sure any age kid has fun. Its SOAKya Water Park includes water slides, a crazy river and more activities.
3. Explore the sights
Explore the depths of the ocean, animals from all over the world or the history of the city, all in Chattanooga at the Tennessee Aquarium, Chattanooga Zoo or through the Chattanooga Ducks city tours.
At the aquarium, your kids can touch and feed Aquarium animals with a backstage pass, take a ride on the River Gorge Explorer boat or step into the butterfly gardens. The zoo has over 300 animals representing 130 species. On the Chattanooga Ducks tours, which start at the corner of 5th and Market Streets, visitors ride amphibious vehicles built for World War II that start out on dry land and then splash into the Tennessee River. The Southern Belle Riverboat offers daily lunch, dinner and sightseeing cruises.
Or if you feel like diving into the depths of the earth, instead, you can take a guided tour the Raccoon Mountain Caves or Ruby Falls, which is a 145-foot thundering waterfall located more than 1,120 feet beneath Lookout Mountain.
Click here to read the full article.
Published by the Atlanta Journal-Constitution on June 23, 2016.