Usually you can rely on hipster millennials to tell you what's gonna be cool before it's cool. Like, drinking uncomfortably hoppy beer, or eating Spam, or which neighborhood will be the next hip neighborhood. But for whatever reason, you rarely hear talk of the next up-and-coming travel destination (except, like, Mexico City. "I was going to Mexico City waaay before everyone else was going to Mexico City.")
Channeling my inner cool kid, I went searching for under-the-radar cities across the US that are poised to become the new Nashvilles and Portlands -- polling travel experts around the country and looking at data trends like increased hotel construction and tourism infrastructure. And, you know, cities with the cool, calm, collected demeanor of someone who knows something you don't yet. Here are eight cities you should go visit before they get too popular.
Chattanooga, Tennessee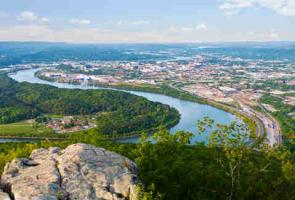 Chattanooga is the kind of place Austin or Nashville was before the entire world decided to move there. It's the only city to receive the revered "Best Town Ever" award from Outdoors Online, twice. Maybe something to do with all the biking and hiking and whitewater rafting and affordable real estate prices.
But even if you aren't moving there, it's one of the most underrated cities to spend a weekend, a clear alternative if you want to escape the elbow-to-elbow bachelorette parties of Nashville while still catching great live music in a much-more-than-adequate entertainment district. The new Chattanooga Choo Choo complex has a 500-seat music venue, guitar museum, and a comedy club joining the already-popular Track 29 venue on Station St, making for a walkable civic center full of restaurants, bars, and public event spaces. Plus, Chattanooga will open three new hotels this year and host the Ironman 70.3 World Championship in September.
Click here to read the full article.
Published by Thrillist on May 30, 2017: 
Written by Matt Meltzer