Chattanooga is a beauty hotspot with stunning vistas. Bonus: Its culinary star is rising.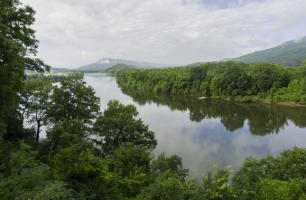 It's summer camp season in Chattanooga. That means gaggles of children with matching neon T-shirts, eager hands, and pudgy cheeks squishing up against polished aquarium windows. They all ooh, aah, giggle, and shriek, while counselors laugh—or groan—behind them. A straggler caught in the rain waddles through the door half an hour late in a bright pink tutu and matching rubber rain boots.
The joyous sights and sounds are a testament to this: Chattanooga is a playground for visitors of all ages. Kids and adults alike can stroll through pedestrian-friendly streets, hike through the mountains, or spend a rainy day spotting seahorses at the riverfront aquarium—without breaking the bank. In this hotspot of natural beauty, the Tennessee River, blue and glistening, snakes through hillsides blanketed in green, while mountains hide colossal boulders and cascading waterfalls above and below ground.
The city itself is on the rise, with its revitalized riverfront and redevelopment projects, including the renovated Chattanooga Choo Choo, a historic train station-turned-vacation complex, complete with train-car hotel rooms and brand new restaurants.
The dining scene is along for the ride—you'll find reimagined Southern and international flavors right alongside traditional fare. There's fried chicken, sure, but also ramen and duck confit tacos. There are grits and creamed corn, still, but under medallions of tender venison or rosy wagyu beef.
The growth of Chattanooga's food scene parallels a return to celebrating the natural bounty of the Tennessee Valley. It's the cherry on top for a city with already so much to offer.
Click here to read the full article.
Published by The Epoch Times on July 21, 2017: Written by Crystal Shi