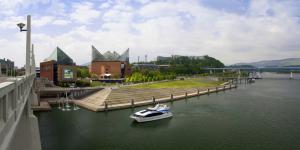 Nestled between the snaking Tennessee River and the Appalachian mountains, Chattanooga has earned its official nickname as the Scenic City. Once a bustling industrial hub for cargo traveling by river and rail, today Chattanooga promises no less of an adventure for visitors.
Efforts to revitalize the city have opened opportunities to engage with the city's past and present: a popular outdoor rock climbing wall is just a 10 minute walk from the state's oldest non-military bridge. Whether it's the outdoor beauty that draws you in or the family-centric attractions, Chattanooga has plenty of rustic charm to fill your vacation itinerary.
Click here to read the full article.
Published by Asheville Lifestyle on April 17, 2017: Written by Anna Van Erven