In 10 years of traveling, I've always thought that I had to trek to places like Patagonia and New Zealand to seek outdoor adventure. I didn't realize I could find it close to home in places like Chattanooga.
Chattanooga (or 'Nooga' as locals call it) is located in the rugged mountains of southeast Tennessee and is the state's fourth largest city. Its downtown along the Tennessee River is continually being revitalized, but I visited for the nearby hiking, rock climbing, and whitewater rafting, among other exciting outdoor sports.
1. Whitewater Rafting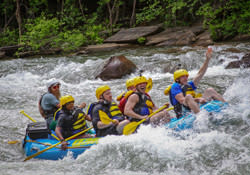 This is whitewater rafting on the Ocoee River with Outdoor Adventure Rafting aka O.A.R. Before getting on the water our group of six took a safety class with our guide and learned that the Ocoee River was actually used during the 1996 Atlanta Summer Olympics. During our trip we spent about 3 hours paddling down the Ocoee attacking up to Class IV rapids. Every time we conquered a huge rapid, we bonded as a team and throughout the trip kept laughing whenever rapids drenched us with cold water or someone almost fell in. During less intense moments, I enjoyed the fresh air and mountainous scenery of the surrounding Cherokee National Forest.
2. Stone Fort Bouldering (aka Little Rock City)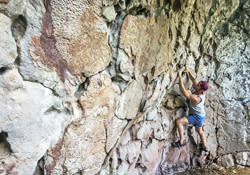 Rock climbers travel to Chattanooga every summer because the city and its surrounding areas are loaded with sandstone bluffs and boulders suitable for all types of climbing. One of the most popular climbing spots is Stone Fort Bouldering (aka 'Little Rock City'), just 30 minutes north of downtown. This boulder field is hidden in a forest alongside the Montlake Golf Club and packed with rock formations for climbers of all levels of experience. As an intermediate climber, I spent a few hours bouldering while also enjoying the peaceful and quiet forest atmosphere. Little Rock City felt like a DIY climber's playground. You can take it easy by relaxing and watching fellow climbers, get in a challenging and sweat inducing total body workout, or find a happy medium. 
3. Hang Gliding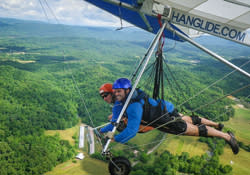 Just 30 minutes south of Chattanooga in Georgia is Lookout Mountain Hang Gliding. This adventure was one of my favorite ways to take in the stunning landscape of the South and required no prior hang gliding experience. All we had to do was show up, fill out paperwork, watch a safety video, strap in with our professional and hang on for the ride. As a tandem rider, an airplane towed our hang glide up to 3,000 feet where we were then disconnected. For around 10 minutes, my instructor and I glided through the sky enjoying the views of the rolling mountains and valleys. Although I went into it scared, it was actually an incredibly peaceful way to experience the outdoors. After watching several of us glide, someone in my group who wasn't going to do it changed his mind and said it wasn't scary at all. 
Click here to read the full article.
Published by Matador Network on June 25, 2016: Written by Justin Walker