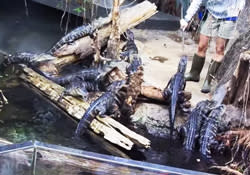 Travelers arriving at Chattanooga Metropolitan Airport are getting an eye opening experience. Visitors are surprised to see toothy alligators and snapping turtles at the Tennessee Aquarium – located nearly 10 miles away. It's part of a live streaming video experience showcasing Chattanooga, Tennessee's powerful Internet of Things (IoT) capabilities. Airport travelers can watch an Alligator Bayou habitat on a 98" ultra high definition (UHD or 4K) screen.
Chattanooga is the world's first municipality to demonstrate 4K video streaming over a metropolitan network. The optical network is powered by Nokia and owned by the Electric Power Board (EPB). Deployed in 2008, the Fiber-to-the-Home (FTTH) network earned Chattanooga the title of world's first city to offer full gigabit Internet access coverage to residents and businesses.
Chattanooga is continually looking for ways to enhance the city experience for residents and visitors. When Nokia's ng Connect Program, dedicated to the creation of next generation connected user experiences, proposed a 4K video of alligators at the airport, the city snapped it up.
Click here to read the full article.
Published by Enterprise IoT Insights on August 24, 2016: Written by Jason Collins