Oh, smaller towns and cities, how we love you. You offer us an escape from the buzz of traffic, buildings that block out the sunset, and hectic, high-speed attitudes. And don't even get us started on your killer charm and good looks. We know you're out there, and we want to celebrate you. That's why we polled 1,000 Americans to determine their favorite medium and small towns to visit in the U.S. We reviewed all the nominations and pinpointed the most frequently mentioned cities, towns, and villages to provide you with America's favorite places to visit. Some you may know, and some just may surprise you, but what makes them so spectacular? Scroll down and find out!
Chattanooga, TN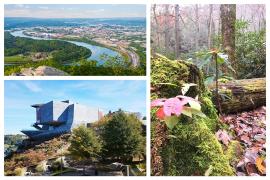 Sitting along the Tennessee River in the foothills of the Appalachian Mountains, Chattanooga offers double the charm when it comes to its enchanting landscape. It's not all superficial here though, as you'll find plenty of depth to this mountain city, from the creativity in the Bluff View Art District to the history along the Tennessee Valley Railroad.
The perks:
There's no denying Chattanooga's good looks. Admire the region's beauty aboard the Tennessee Valley Railroad as you wind through the Missionary Ridge Tunnel and soak up the eye candy!
The Hunter Museum of American Art is grand and regal on the outside, and its architecture only adds to the fascinating art collections inside. And if the art museum wasn't visually appealing enough, it sits on the bluffs of the Tennessee River. After indulging in the manmade art, stroll around the grounds to see what nature is serving up.
Click here to read the full article.
Published by Expedia Viewfinder on March 1, 2018: Written by Chloe Mulliner