When you think of a "biodiversity hotspot," Chattanooga, Tennessee, might not be the first place that comes to mind.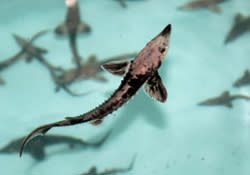 But Chattanooga, and the rest of the Southeast, deserves to be known as hotspots for aquatic species of all varieties: the region is home to nearly 50% of the native freshwater fish species in North America, half of the turtle species, and half of all the salamanders. Regional scientists call the waterways of the Southeast an "underwater rainforest" for its biodiversity, which is on par with the Amazon rainforest and coral reefs.
Many of these fish, turtles and other freshwater animals in the Southeast are gravely endangered due to habitat loss and pollution. Yet research and conservation efforts in the rivers and streams of the Southeast remain underfunded and underappreciated. Between 2012 and 2014, the entire Southeast region received only $6 million in federal funding for freshwater science. For comparison, a combined $636 million was spent to study just 12 fish species in other parts of the U.S.
Click here to read the full article.
Published by Forbes on October 28, 2016: Written by Mallory Pickett