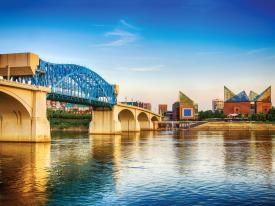 Last year the Chattanooga Area Chamber of Commerce rolled out a new marketing campaign that included a song-and-dance number that praised the Tennessee city. The number ended with a cheeky catchphrase: "Chattanooga, Literally Perfect!" The ads, which touted the city's arts and culture as well as its growing tech sector, were done in a playful spirit and happily winked at the audience – at one point the city is referred to as the "Tom Hanks of places" – but the campaign tapped into a growing sense of excitement that had been building in Chattanooga. A sense that the city was, and still today, blossoming into a cultural hub for arts, adventure, creativity and innovation.
The innovation part hits you as soon as you step off the plane at the airport, where visitors are immediately greeted with a sign that says, "Gig City Welcomes You!" Gig City, I assumed, was because Nashville, country music epicenter, was 130 miles to the northwest, and all those musicians would need, you know, music gigs. Residents are patient with visitors who make this mistake; the "gig" in Gig City refers to gigabytes after Chattanooga launched the first ultra-high-speed internet service in 2010. Fast internet speeds not only brought savvy, young tech entrepreneurs, it also signaled a remarkable new view about the future and where Chattanooga – home to the Moon Pie, the first major Coca-Cola bottling plant, and Usher-would fit into it. Not content to be left behind, the city embraced its forward-looking perspective, and today it's reaping the benefits across many spectrums.
Click here to read the full article.
Published in American Art Collector April 2018: Written by Michael Clawson