Hiking, biking, rock climbing, founding a startup—it's all par for the course if you hang around Chattanooga, Tennessee long enough, according to Peri McIntosh. She's a barista at Velo Coffee, the coffee linchpin in the mid-sized city in the foothills of the Appalachian Mountains. "Everyone's quirky and weird here—but everyone takes pride in what they do," she said of residents making Chattanooga an unlikely boomtown. She grew up in the creative, outdoorsy city—and now shows people around its most stunning watering holes, Old Fashioneds on tap, and life-affirming fried chicken. Let her be your guide.
Where should we stay?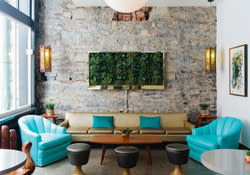 A hostel called The Crash Pad. Most of the people who stay there are outdoorsy, but it's for anyone. It's really pretty, and the staff is friendly. It's also right next to Flying Squirrel, a popular bar for locals and travelers. Stay in an Airbnb downtown for a real city experience or in the Northshore if you want older houses and an emphasis on local businesses and food. The most beautiful hotel in town is The Stone Fort Inn, which I think has been renamed to The Dwell Hotel. It's in an older building that's both ornate and cozy—really beautiful.
Where to grab a great breakfast?
Bluegrass Grill is very popular. It's smaller and family-run, packed every day, with killer potato hash and make-your-own omelets. Easy Bistro is one of the nicer restaurants here in town and it has great upscale brunch on the weekends. Food Works is another favorite; I get the crab cake Benedict every time. And The Flying Squirrel on Sundays. Get the roasted pork belly with grits, greens, and egg—plus the mimosa deal.
Where to get a good cup of coffee?
Even though we're a mid-sized/small city, we have so many high-quality coffee shops. Velo, of course, is where you can get the behind-the-scenes look at the roasting equipment in the same room as the coffee bar. Then there's Brash Coffee, which is the place that taught me that coffee is more than just dark roast versus light roast. One of the owners sources directly from farmers and farms he's visited. The Camp House is another one. They have several pour-over options, so I go there when I want to try something new. It's also a good place to do work or have a meeting.
Click here to read the full article.
Published by Bon Appetite on May 5, 2016: Written by Elyssa Goldberg