Growing up in Alabama, I remember visiting Chattanooga many times on weekend family excursions and Boy Scout outings. We never actually went to Chattanooga proper, but to Lookout Mountain six miles southwest of the city to visit Rock City, see Ruby Falls and ride the Incline Railway. Or we went to the Chickamauga battlefield for camping and history lessons about the Civil War. Except for a visit to the famous choo-choo, tourists setting foot downtown were unheard of back then because there wasn't much to see or do.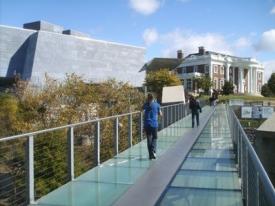 What a difference three decades make. Thanks to some visionary, long-range planning, and the added benefit of its location along a big bend in the Tennessee River cradled by scenic Appalachian ridges, Chattanooga made a 180-degree turn from the seeming ghost town I remember from my youth. Nowadays, in my capacity as a travel writer who covers the South, I'm often asked what my favorite city is. Without hesitation, I invariably say Chattanooga. When explaining why, those time-honored Lookout Mountain attractions don't even come up (although seeing them remains a must, especially if traveling with kids).
"There's a bustling downtown and vibrant, re-energized neighborhoods nearby," I say. "It's not too big and it's not too small. Plus, there are mountains close by and it's on the water." That's a near-perfect combo for me. It helps that Chattanooga is less than a two-hour drive from Atlanta.
Click here to read the full article.
Published by AJC on July 7, 2018: Written by Blake Guthrie