Food doesn't get much fresher than the fare served at Back Inn Cafe, high on a bluff overlooking the Tennessee River in downtown Chattanooga, Tennessee. Handmade pasta, artisanal breads, fresh-roasted coffee, just-picked produce and fragrant herbs share center stage at the upscale bistro, a prime attraction in the revitalized neighborhood known as Bluff View Art District.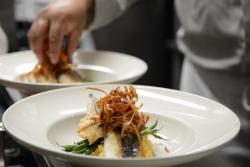 Located on Chattanooga's 10-mile Riverwalk, within walking distance of the Hunter Museum of American Art and the Tennessee Aquarium, the 1 ½-block enclave is a popular stop for groups and other travelers. They come to see the lush herb and sculpture gardens, art gallery and bed-and-breakfast inn. There's also culinary attractions, including an Italian trattoria, coffeehouse, chocolatier, pastry kitchen and bakery. Visitors can watch workers in action at most of them.
The Back Inn Cafe, in a renovated Colonial revival mansion, is the neighborhood's restaurant of choice for a fine dining experience that stars globally inspired cuisine and fresh seasonal ingredients. Guests enjoy panoramic river views from the outdoor terrace and two dining areas, the Upper Sunroom and the Lower Sunroom, each of which sits 30 comfortably.
"Chattanooga is quickly becoming a foodie town with high demand for locally-sourced and -grown artisan foods and products," said Michele Kephart, Bluff View Art District's marketing and sales director. "And Back Inn Cafe has the best of both worlds: the view and the food."
Click here to read the full article.
Published by Group Tour Media on June 2, 2016: Written by Susan Pollack