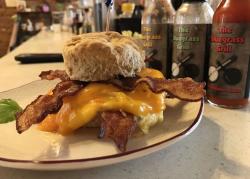 Sandwiches in Tennessee are best served on one of the state's most celebrated foods, the biscuit. This humble version of bread became popular just before the Civil War, when yeast was expensive so cooks made do without it. A firmer texture than a traditional slice of bread makes the biscuit perfect vehicle for gravy, among other toppings.
There are as many versions of the biscuit sandwich in Tennessee as there are places serving them. Popular fillings include eggs and ham, fried chicken and barbecue pork, but the best thing about this versatile sandwich is you can stuff it with almost anything.
10Best and Sandwich America set out to find the best biscuit sandwich in the state, and to do so, 10Best editors joined forces with a panel of local Tennessee food writers and The Food Channel to nominate 20 worthy restaurants across the state. For the past four weeks, our readers have been casting ballots for their favorites.
Click here to read the full article.
Published by USA Today 10 Best