We're rounding up value trips across the U.S. (one in each state, plus DC) to inspire Budget Travelers to see more of America for less money. Here, the best of the South.
Sometimes, the best laid vacation plans go astray. And that can be a very, very good thing. When you diverge from your prearranged plans, you open yourself up to discovery, which is something we heartily endorse here at Budget Travel. Our editors spend the past year listening to your experiences and talking to locals to assemble 51 Best Budget Destinations 2018, one in every state, plus the District of Columbia. Each of these selections is a place that might be near to or on the way to or even part of a familiar destination—someplace that will richly reward you for veering off the well-trod path.
We define a "Budget Destination" as a place that includes, but is not limited to: excellent food and drink, a variety of cultural options, a hearty helping of American history, unique institutions, and jaw-dropping natural beauty. And what's more, you won't have to mortgage your home to enjoy it, as we sought out places with lodging under $200 per night. In the hopes of inspiring new bucket-list journeys, whether you're committed road-trippers, weekend warriors, or travel junkies, here are the 13 Best Budget Destinations in the South.
CHATTANOOGA, TENNESSEE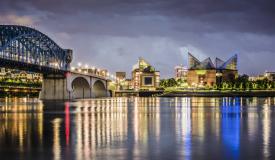 In the 1880s, a wood-fired choo-choo train was the main attraction in this city right over the Georgia state line; today, it's the Innovation District. Thanks to the somewhat surprising fact that Chattanooga is home to the fastest internet in the country, startups have come here and set up camp, and where tech people go, bars and restaurants follow.
From Stir, where shelves of liquor stretch so high that bartenders require ladders, to American Draft, a bar in a revamped train car where you can pour your own beer, to several Guatemalan eateries, there's no shortage of choices for eating and drinking. None of this, however, overshadows its longtime charms and natural beauty. With its Appalachian Mountains location, biking, mountain biking, rock climbing, and hiking are just a few of the ways to take advantage of the gorgeous landscape.
Click here to read the full article.
Published by Budget Travel on April 23, 2018: Written by the Budget Travel Editors