Pick a place in the United States, and chances are you're not far from a beautiful and accessible cave or cavern. For the past month, USA TODAY 10Best readers have been voting for their favorite American caves from a pool of 20 nominees scattered from coast to coast. Voting has ended, and the winners are in! 
RUBY FALLS
Chattanooga, Tenn.
Located 1,120 feet below the surface of Lookout Mountain near Chattanooga, Tenn., Ruby Falls is the largest and deepest waterfall open to the public in the United States. This 145-foot cascade overshadows the impressive assortment of formations found elsewhere in the Lookout Mountain Cave.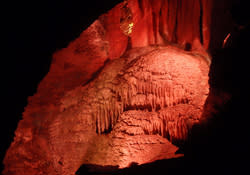 THE LOST SEA
Sweetwater, Tenn.
Located in Sweetwater, Tenn., The Lost Sea is the largest underground lake in the United States, part of the larger Craighead Caverns cave system. A guided tour of the cave includes a three-quarter-mile walk through the caverns, followed by a glass-bottom boat trip across the 4-acre underground lake.
Click here to read the full article.
Published by USA Today 10Best on: April 15, 2016: Written by Larry Bleiberg & Anna Hider