If you were planning to head to Gatlinburg, TN in the near future, but are now re-thinking it following all the crazy stuff that's happened there, don't worry: There's another city in Tennessee that has even better quirky attractions. Plus more.
Don't get me wrong: I love Gatlinburg and its various nearby amusements (Dollywood, hello). It's just that I love another Tennessee city more--like, a lot more.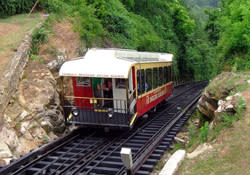 That city is Chattanooga, TN, where my family and I vacationed in 2010, deciding we wanted to hit all the tourist traps we'd heard about for years. The Incline Railway, Ruby Falls, Rock City: We even stopped in at The Battles for Chattanooga Electric Map & Museum, which was so hokey we spent the entire time making fun of it. This is what made the vacation classic, though. And why I'd recommend it to anyone.
On top of that, Chattanooga is just a beautiful city. Nestled between rolling hills, with a lovely waterfront and a downtown made for strolling, I've since returned several times, most recently last fall. It was on this trip that I discovered another one of Chattanooga's hidden secrets: Its food scene. Coffee at Rembrandt's, beers at Beast + Barrel, brunch at Tupelo Honey: It was absolute culinary heaven.
But before I get too far off track, let's get back to those quirky attractions, and why they'll trump anything else you'll find in the Volunteer State.
Click here to read the full article.
Published by Livability on April 13, 2016: Written by Susanna Pilny