The farm-to-table movement may be decades old, but recent heightened attention towards issues like climate change and health has given rise to a new generation of chefs who are redefining what that oft-abused phrase means. In an era where fast food chains are hawking the farm-to-table trend, consumers are left feeling that every restaurant is green to some degree. These 50 establishments—plus Washington D.C.—stand out from the pack by not only creating exciting innovative cuisine with a locally sourced menu, but also by applying that same eco-minded culinary philosophy to every aspect of the operation.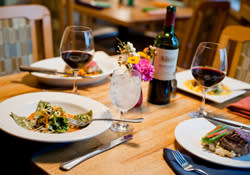 Considering that the average food item in America has traveled 1,500 miles from the farm to your plate, according to Worldwatch Institute, eating local—for your health, the environment, and your taste buds—is only logical. From the James Beard-awarded chefs to under-the-radar talents and those fresh on the scene, it's increasingly important to know the story behind the food we eat when dining out, not just at home.
We consulted with the country's top food bloggers and experts (and did plenty of foraging ourselves) to uncover the best eco-friendly restaurant in every state, from the Sun Belt to the Gulf of Alaska to the shores of Hawaii's Big Island.
Tennessee: 212 Market (Unfortunately, this restaurant is now closed)  
Back in 1992, before there was a farm-to-table trend or a Tennessee Aquarium, Sally and Susan Moses opened 212 Market with their mother Maggie in the Downtown Riverfront District of Chattanooga. Though opening a restaurant featuring only local foods was a groundbreaking feat then, today the establishment still continues to set the standard for excellence in eco-conscious dining. Among the many reasons to love 212, the first Certified Green Restaurant in Tennessee, are its grass-fed burgers, homemade baked goods, solar-powered roof, on-site herb garden, and electric car chargers in the parking lot.
Click here to read the full article.
Published by Food & Wine on December 2016: Written by Lauren Matison