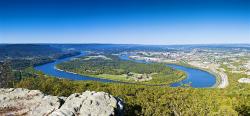 Lonely Planet's travel experts have scoured the States to bring you our top 10 underrated, rejuvenated and out-of-this-world spots to visit in 2018. From natural wonders to captivating coastlines and up-and-coming cities, these destinations promise big things this year.
Inspired to hit the road? Enter our Best in the US competition for the chance to win a wanderlust-inducing prize.
3. Chattanooga, Tennessee
Once little more than a pit stop between Atlanta and Nashville, the nature-centric 'Noog has transformed itself into a bastion of elevated
Southern living. Outdoor enthusiasts flock to Chattanooga for some of the best rock climbing in the country, myriad hiking and mountain biking trails and wild rides on the Ocoee River – one of America's top spots for whitewater rafting.
Foodies, hopheads and techies aren't far behind, either. Chattanooga's revitalized downtown – centered on the $20-million makeover of the city's signature train station into a multi-purpose nightlife and entertainment destination (including a world-class guitar museum) – is rife with pilgrimage-worthy New Southern cuisine, thirst-quenching breweries and techie-pleasing internet speeds. Meet the New South!
Spotify Playlist – Chattanooga
Click here to read the full article.
Published by Lonely Planet on Feb. 6, 2018.