"Something old, something new" is part of a time-honored good luck tradition and an appealing way to experience travel destinations. After all, travelers should experience not only the newest hot attractions but also the enduring elements that make a place worth visiting. And you might even come across "something borrowed" and "something blue" in the process.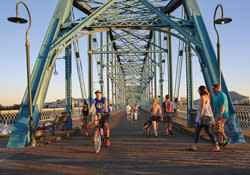 Chattanooga
Built in 1891, the Walnut Street Bridge (1 Walnut St., Chattanooga. 423-425-6311, www.chattanoogafun.com) has been placed on the National Register of Historic Places. It was transformed into a pedestrian bridge in 1993. These days, the truss bridge provides a pleasant way to bike or walk over the Tennessee River from the heart of Nooga's riverfront district to the North Shore with its eclectic dining and shopping options and its two parks — particularly Coolidge Park with its play fountains and century-old carousel. If your timing is right (Oct. 7 this year), you can enjoy the annual Wine over Water event on the Walnut Street Pedestrian Bridge.
Before you cross over to the North Shore, check out the Lemur Forest exhibit at the Tennessee Aquarium (1 Broad St., Chattanooga. 1-800-262-0695, www.tnaqua.org, @TNAquarium), the riverfront facility's newest. Red- ruffed and ring-tailed lemurs scamper around and climb in a rainforest setting. The cute, wide-eyed primates put on quite a show.
About a mile and a half off the riverfront, another new attraction in Chattanooga is in one of the city's historic icons. The Songbirds Guitar Museum (35 Station St., Chattanooga. 423-531-2473, songbirdsguitars.com, @SongbirdsGuitar), at the Chattanooga Choo Choo, has exhibits of rare, vintage guitars and regularly scheduled live performances. If names like Fender and Stratocaster play your heart like "ringin'a bell," then Songbirds is nirvana for you. Hollow-bodied, solid-bodied, acoustic, electric, dreadnoughts, parlors – and every one a veritable work of art. More than 300 classic American acoustic and electric instruments are on display at any one time.
Published by The Atlanta Journal-Constitution on September 18, 2017: Written by T. Wayne Waters