When thinking of the U.S. South, what comes to mind? Tech startups, micro-breweries, or rock climbing perhaps? Doubtful, but there's one Southern town that's full of those adventures and experiences… and more. Chattanooga, Tennessee, is the most recent winner of Outside Magazine's "Best Place to Live" Award. Why? Because it's not only an incredible place to live, but a compelling and rewarding destination to visit:
It All Started with the "Gig"
According to locals, Chattanooga really began its journey from an average city, to an extraordinary city, in 2010 when it got the Gig. The Gig is a one-gigabit-per-second fiber-optic Internet service that's owned by the taxpayers and available to everyone, and every business, for an affordable price. We're talking 50 times quicker than most. The Gig meant that Chattanooga was ready to take business development to a new level, and over the past five years, millions have been pumped into new businesses. It's a start-up city alright. What does this mean for you? Plenty to do, enjoy, savor, and see, plus super-fast Wi-Fi everywhere you go.
Excellent City to Outdoor Ratio
If necessary, Chattanooga could give lessons to other cities on the importance of city – nature balance. Seriously though, a trip to Chattanooga means you can explore, shop, and dine your way around town, and then later that day go hiking, biking, or rafting. Or, you can start your day strong with a mountain bike trail, merely miles outside of the downtown, and then wind down at your chic hotel, at a local bar, or at an evening show. There's no limit to the amount of nature and city life you can combine on a daily basis!
Adventures Are Limitless
Chattanooga is literally an outdoor adventure paradise. Some of the typical activities locals and visitors alike experience and enjoy are:
Hang gliding

Mountain Biking

Hiking

Rock Climbing

River Rafting

Kayaking

Stand Up Paddling

Trail Running

Swimming

Bouldering
Seriously what's not on that list? Sure, many of those activities can be done elsewhere in the country and/or world, but guess what? Chattanooga is dubbed The Scenic City, because it's so awe-inspiringly gorgeous.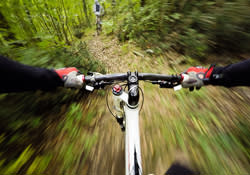 What we mean is, you can have an outdoor adventure in one of the most beautiful places in the country, alongside locals and visitors who flock to this area specifically for the adventure. The rapids range between I-V, which means easy to super difficult but fun, and Lookout Mountain Hang Gliding trains the most hang gliders in the country.
Click here to read the full article.
Written on: March 8, 2016