We began our 2015 Best Towns competition with a bracket of 64 favorites, then let you vote until one dream burg emerged. Here, we present the 16 finalists—the places you say are the top spots in the country to work, run, eat, sail, paddle, drink, ride, and climb. The winner? A southern gem that surprised us once again.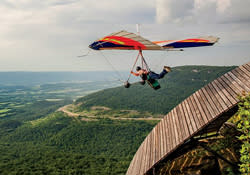 When I was growing up an hour south of Chattanooga in the eighties and nineties, the city was best known for MoonPies, those sinfully delicious chocolate, graham cracker, and marshmallow hockey pucks. Fast-forward a couple of decades and I'm standing in a juice bar on the edge of downtown, wondering what happened to the corny place I once knew. Now it's all nitro cold brew and tech startups, like the love child of Nashville and Silicon Valley, but with more singletrack.

The city of 173,000, built in the belly of the rocky Tennessee River Gorge, always had the potential to be a great adventure town. Climbers have been sending routes on the nearby sandstone cliffs for more than 30 years. A decade ago, the local mountain-bike club set out to build 100 miles of singletrack within ten miles of the city. They're up to 120 miles, and there's a midweek enduro series where you can rip dirt after work and be home in time for dinner. Competition is fierce, and the winner takes a growler of home brew.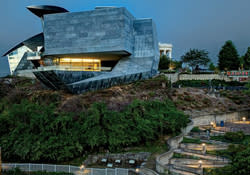 So Chattanooga's outdoor cred isn't really news. The quantity and quality of adventure playgrounds—including the Tennessee River, which wraps around the city, and a bevy of Class IV–V rapids on the nearby Ocoee—helped it win our Best Towns contest four years ago. But now the city itself has caught up with the surrounding action. Neighborhoods are filling up with record stores, coffeehouses, and restaurants, and breweries are opening that offer the perfect nightcaps to days spent on the trails, creeks, and crags.
Click here to read the full article.
Published by Outside on August 18, 2015.