Hostels: You either love them, or you're terrified of them. These warm, welcoming, and sometimes extravagant hostels will make you question everything you think you know about them.
The Crash Pad, Chattanooga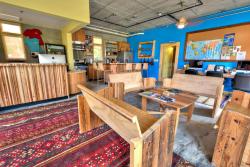 The LEED-certified Crash Pad in Chattanooga, Tennessee, was inspired by Camp 4 in Yosemite National Park, known for being a climbers' community. The Crash Pad's co-founders moved to Chattanooga for its incredible rock climbing, and founded the hostel when they realized the community was lacking an outdoor recreation base camp, says co-founder Max Poppel.
So they took the best of a community hostel, he says, and paired it with the cleanliness and amenities you'll find at a hotel. Boutique hostels like The Crash Pad are a growing trend, says Poppel, who visited hostels around the U.S. before opening his own. "It's the experience, it's the communal nature," he says. "It's the guests you'll meet and become friends with forever." Bonus: The Crash Pad has a sister bar and restaurant next door, and supplies fresh, free ingredients for you to make your own breakfast in its kitchen.
Click here to read the full article.
Published by Travel Channel on March 27, 2018: Written by Kassondra Cloos