For me, Chattanooga has always been a place one passes through to get somewhere else, but I recently discovered this Southern city perched on the banks of the Tennessee River is a destination in itself.

Maybe all those 1970s childhood road trips from Kentucky to Florida colored my view of Chattanooga. I remember it disappearing in the rearview mirror as my sister and I rattled along in the back of our parents' "Brady Bunch"-like station wagon, calculating (inaccurately) how far Disney World was from Tennessee.

I'm all grown up now, and so is Chattanooga.

It has blossomed into a sophisticated city that embraces its past while looking to the future. Antebellum architecture, Civil War historic sites and decades-old attractions mingle with a beautiful, modern waterfront and a thriving arts scene.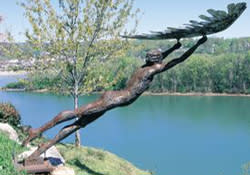 The Bluff View Art District is small, but flourishing, and I whiled away an afternoon strolling its streets, wondering how so much quaint charm could be contained in one city block. Perhaps it should be called the Bluff View Art and Artisans District, because half the fun is watching the neighborhood bread bakers, pasta makers, coffee roasters and chocolate makers at work.

Art enthusiasts inevitably find their way to River Gallery, a Bluff View highlight. Located in a former residence that dates to the early 1900s, the gallery exhibits works by artists from around the globe. Each room is like a beautifully wrapped present you can't wait to open. Intriguing paintings and sculptures, eccentric ceramics and intricate wood carvings are just a few of the treasures housed here.

Equally compelling is the River Gallery Sculpture Garden, a two-acre outdoor exhibit space on the riverfront that features both a permanent collection and a temporary exhibit that changes annually. Visitors can view works by Leonard Baskin, Allan Houser, Ernest Trova and other art world luminaries.

I felt like Alice in Wonderland as I walked beneath a towering scarlet flower and passed a butterfly the size of a pony.
Click here to read the full article.



Published by the Atlanta Journal-Constitution on Sept. 26, 2015: Written by Tracey Teo