Visitors to Chattanooga, Tenn., have many options for taking in the sights of this vibrant city: by foot from the top of a mountain, by riverboat tour, by car or by train.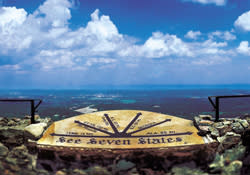 From the See Seven States Overlook, visitors can see breathtaking views of parts of Tennessee, Alabama, Georgia, South Carolina, North Carolina, Virginia and Kentucky. This is just one of the activities that make a visit to Chattanooga special. 
Chattanooga is a centrally located Southeast city that sits at the intersections of I-75, I-24 and I-59. Much of the city's history relates to the pristine river that runs through it. Many of today's attractions and activities lie along the expansive downtown riverfront.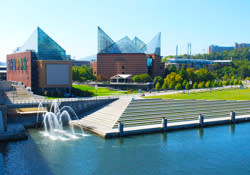 Downtown is designed to be extremely walkable. Be sure to meander along one of the longest pedestrian bridges in the world that connects the Northshore and the Southshore, as well as a 13-mile riverwalk. There's also a free electric shuttle that covers all of downtown and connects to the Northshore. The South's first citywide bike share system has 300 bikes at 35 locations throughout the city. 
You can easily find entertainment, attractions, shopping, dining and lodging to meet any taste and interest.
Save time to visit the enlightening Hunter Museum of American Art. It was built on a 90-foot limestone bluff overlooking the Tennessee River and showcases 100 years of architecture and one of the finest collections of American art in the Southeast.
Click here to read the full article.
Published by the Winston-Salem Journal on April 7, 2016: Written by Zenda Douglas