Seventh Stop – The Passage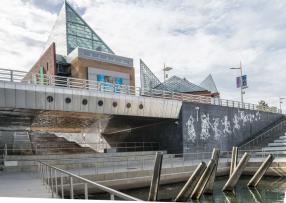 Water provided life and sustenance to peaceful tribal families on the Tennessee River's edge. That same river carried them to unknown lands. Entering The Passage in Chattanooga is a surreal experience.
Chattanooga was one of the water routes of the Indian Removal Act of 1830. The Act led to a forced evacuation program for the Cherokee Indian tribe, when the tribes were moved to land west of the Mississippi River. The heartbreak of the Cherokee removal is honored in The Passage, a multi-dimensional community gathering place and outdoor art display near Ross's Landing in Chattanooga, Tennessee.
Click here to read the full article.
Published by Miles Geek on February 16, 2017: Written by Gwyn Goodrow