A crossroads in the South, halfway between Nashville and Atlanta, Chattanooga lies at the perfect junction for a corporate retreat or convention, sitting at the intersection of three major Interstates, I-24, I-75 and I-59. Recessed into the Appalachian Mountains, and situated on the banks of the Tennessee River, Chattanooga also has a panorama of beauty.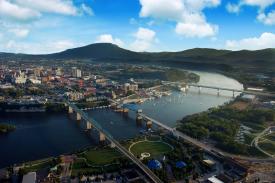 The city was a strategic stronghold during the Civil War. Grant made a name for himself with his maneuvers in Chattanooga, and Sherman advanced through Chattanooga on his march to the sea. And although the city has grown at a fast pace over the last 20 years, it has maintained its southern spirit and hospitality.
The downtown area features world-class art, shopping, nightlife and dining. With the recently resurrected Riverwalk spanning 13 paved miles, Chattanooga's accessibility and beauty have grown together. The free electric shuttle that connects Chattanooga's two banks also connects the Chattanooga Convention Center to over 2,000 hotel rooms, makes planning a meeting logistically easy and cost effective. And the city's moniker "The Gig City," is not for naught, as over 150,000 businesses and homes, including the hotels and the convention center, have Wi-Fi speeds of up to one gigabit per second.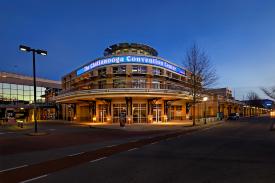 Chattanooga's convention center offers groups 100,000 sq. ft. of column-free exhibit space all on one floor and 19,000 sq. ft. of divisible ballroom space. Certified by Tennessee's Green Hospitality Program, the center makes use of natural light and boasts in-house farm-to-table service that provides fresh ingredients. Even the center's coffee is locally grown. And the city-operated electric shuttle provides yet another environmentally conscious choice for groups.
The University of Tennessee has partnered with the Chattanooga Convention Center for an annual state conference that is traditionally held in Nashville. "We were not able to secure the state rate in Nashville, so we had to consider other options. We looked at many cities and found that Chattanooga was a great location for pricing, activities and convenience for our attendees," says Kristie Wright, MS, CGMP, Program Administrator for the University of Tennessee Center for Literacy, Education & Employment. Wright adds that the convention center's layout made it easy for the 400 attendees to get around between sessions.
Click here to read the full article.
Published in Facilities & Destinations Winter/Spring 2018: Written by Joshua Mermelstein