Looking for a way to "Travel Around the World" with your kids over Spring Break? Chattanooga's Spring Break Safari and 14-site Scavenger Hunt offer a great way to get out of the house, recharge and spend some quality family time together now through April 19, 2015.

The special, inclusive Spring Break Safari is anything but ordinary. The city has been transformed into a place where kids rule and adventure is everywhere. Kids can't resist exploring the world with lots of hands-on activities designed just for them.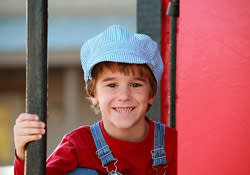 Families can also explore Chattanooga on the 14-site Scavenger Hunt, an exciting way to learn more about each attraction and different areas throughout the city. There are a series of clues – both outside and inside the attractions as well as around the city – that need to be answered and then documented by taking pictures. The Scavenger Hunt can be accessed on the mobile site or viewed in the official Spring Break Safari Guide located at any of the participating attractions. The Guide can also be downloaded online.

While you're in town, be sure to check out some of Chattanooga's incredible spring events including the Chattanooga River Market, Rock City's Fairytale Nights, the Chattanooga Film Festival and more!
Published by the Daily Mom on April 13, 2015.