A proper introduction to a city requires time for developing a personal perspective. In Chattanooga, I discovered that personal connection with the Free Walk CHA Tour, hosted by tour founder and entrepreneur, Stephanie Hays. This tour boasts a 5-star ranking with TripAdvisor.
Chattanooga's story is uniquely complex, dealing with early trade between Cherokee Indians and American pioneers, the Indian removal program, and the resulting capitalist advancements in the city. Stephanie's tour provides an overview of Chattanooga and a peek into the city's entrepreneurial growth.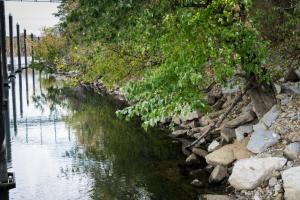 Ross's Landing
The Free Walk CHA Tour begins at the Tennessee River, the city's birthplace. Imagine a time of clean rivers when Native American Indians were caretakers of this vast land.
Such was the world when John Ross was born in 1790, as the son of a Scottish merchant father and Cherokee mother. Known as "Little White Bird", John Ross was one-eighth Cherokee and was educated primarily in English-speaking schools. By the age of 26, Ross had established trading posts along the Tennessee River, fostering trade with the new United States of America. The entrepreneurship story begins.
The Tennessee River's broad curve was an ideal geographic location for Ross's trading post and ferry service, transporting people and merchandise between the shores. As trade expanded, families homesteaded at the river. Today, the location of the original trading post is obscured by concrete, but undeveloped land nearby suggests how the area may have appeared, with river waters lapping gently against rocky and a forested riverbanks.
Click here to read the full article.
Published by Miles Geek on: February 9, 2017: Written by Gwyn Goodrow