A boxy former movie theater and parking garage in the riverfront district of Chattanooga, Tenn. might easily have become the home of several generic national chain restaurants.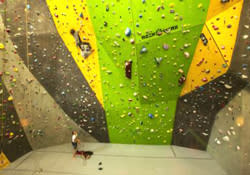 But, the River City Company, a private nonprofit economic development group, decided to take a chance in repurposing the building. Now called "The Block," the 23,000-square-foot building is far from a characterless cube—it's a world-class climbing gym with an expansive exterior climbing wall that doubles as public art.
While attractive historic buildings are frequent candidates for adaptive reuse, even garden-variety commercial structures are now a popular way to conserve resources and revitalize neighborhoods.
Chattanooga "has undergone a decades-long renaissance that has transformed a riverfront district into an entertainment showplace," explains commercial real estate practitioner Dan Wagner, a member of the National Association of Realtors and its 2016 Commercial Group liaison. "The beauty of this project is that it capitalizes on an already well-established outdoor and fitness culture that exists in the city, and brings it to an urban space...this project showcases all that is great about living and working in the city."
Click here to read the full article.
Published by Fortune Magazine on September 26, 2016.