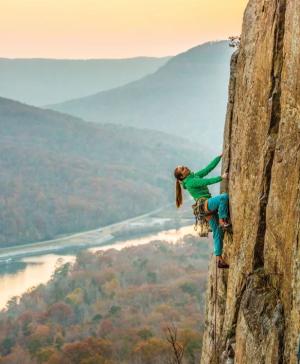 The dirtbag is a romanticized concept, dreamy because of its simplicity. We think if we remove the trappings of modern life—a smartphone, a house, a decent car, a full-time job—we will have endless time to pursue adventures. But those things aren't superfluous to climbers anymore. The days of bivying under boulders are over—our sport is too big and we can no longer just sketch along.
A new breed of climber has emerged. She has a college degree, a 401(k), and career ambitions. She works as a doctor or a coder or an engineer. She pays rent or a mortgage, goes to the gym a few days a week, and gets outside on the weekends (or not). While this shift has meant forfeiting a certain rawness, the climbing community has also gained a power it never had before. Moving from subculture toward mainstream has given us a voice in political, environmental, and social conversations. We're being listened to because we're now seen as contributing members of society, not as transient ne'er-do-wells. Some of our authority is a result of our growing numbers, sure, but the real leverage comes from the one thing that must—or so say the purists, the "America's fit homeless" of yesteryear—be repudiated to be considered a true dirtbag: money.
From 1999 to 2003, Drew Bailey would drive from Crossville, Tennessee, to climb in Chattanooga every few weeks. He loved the sandstone of Sunset Rock and Tennessee Wall, areas that collectively offer several hundred single-pitch trad lines. He would spend his days climbing, then eat homemade noodles and sleep in his truck on the outskirts of town. He occasionally spent money on gas and coffee. "I wasn't going to pay $150 for a hotel," Bailey says, "and there weren't places for climbers to stay." In 2004, he and his wife moved to Chattanooga, where they got a job running an event facility on Lookout Mountain.
Click here to read the full article.
Published by Climbing on April 6, 2018: Written by Julie Ellison