Cities like San Francisco and New York are magnets for entrepreneurs, but the competition among start-ups is tough and everything is expensive. So where else can you start a business in the U.S.? These seven cities across America are shining bright for start-ups.
CHATTANOOGA, TENNESSEE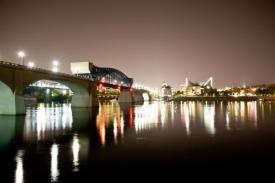 Chattanooga has been making headlines as having a fast emerging tech sector with a strong start-up ecosystem. It was the first U.S. city to roll out a citywide gigabit network (a super-fast internet connection with speeds 200 times faster than the national average) in 2010, in hopes of giving businesses there a competitive advantage. And it seems to have worked; new business to the tune of $865.3 million had been added to the local economy by 2015, according to a study that year by the University of Tennessee.
Chattanooga's mayor also created an Innovation District, "a 140-acre section in downtown Chattanooga that clusters startups, nonprofits, and government entities all in one place," according to Fortune.
But it's not just that. "The affordability for starting a business here is great, and the cost of living is better," Luke Marklin, CEO of Bellhops, an on-demand start-up for moving that operates in more than 50 cities nationwide, tells CNBC Make It. "This helps Bellhops attract the right people and retain talent in a competitive industry."
Marklin says he's also lived in both Nashville, Tennessee, and Atlanta. "I can get more personally and financially in Chattanooga without sacrificing professionally."
Tennessee is one of 2018's cheapest states to live. While Chattanooga is the most expensive area, it's still affordable compared with many large cities.
Click here to read the full article.
Published by CNBC on August 29, 2018: Written by Jimmy Im