Science says playing is good for the mind, body and spirit, so how about making your next vacation about fun and games? A boom in grown-up playgrounds gives you new reasons to hit two of the New South's most winning cities: Chattanooga, Tenn., and Richmond, Va.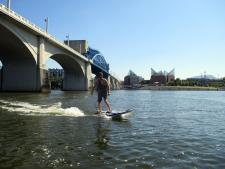 Chattanooga: High-tech and old-school fun
Edging the Appalachian Mountains and straddling the Tennessee River, this exuberant city has long been revered by lovers of water sports, hang-gliding, rock-climbing and cave-exploring (underground Ruby Falls plunges 145 feet within Lookout Mountain). Now, you can get your game on all over town.
After Chattanooga fired up America's first citywide fiber-optic gigabit network in 2010, innovators flooded in, boosting demand for offerings from food to fun. Gig City's genius spirit is now enhancing pleasurable pastimes. Electric surfboarding, virtual-reality hang-gliding and a stunning 60-foot translucent climbing wall make this an awesome place to visit.
Click here to read the full article.
Published by the Dallas News on October 23, 2018: Written by Robin Soslow