Whether you'd like to jump out of a perfectly good airplane, zipline through the air with greatest of ease, or scuba dive the deep blue sea, opportunities for extreme adventure are everywhere these days. Nowhere is that truer than the South, where warm temperatures and stunning natural resources combine to offer adrenaline junkies plenty of places to get their fix, often all in one area. One caveat: While all operators listed below are pros who put safety first, these activities are not without risk. But that's part of the fun, isn't it?
HANG GLIDING - CHATTANOOGA, TENNESSEE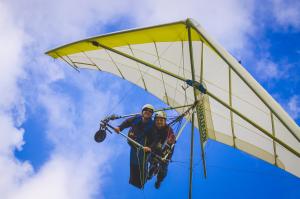 If you'd like to learn hang gliding, or just take a tandem flight, then head to the Cumberland Mountains, near Chattanooga. The thermals that rise along the ridges can keep pilots soaring for miles, and Lookout Mountain Flight Park is the nation's largest hang-gliding school. Take lessons there and you can be soloing within a half-day. Or grab a certified instructor and take a running leap off the side of the mountain, gliding like a bird a couple thousand feet in the air.
The area also offers great rock climbing and rafting, but the city itself is no slouch in serving up extreme outdoor sports, according to Chattanooga Mayor Andy Berke. "We're called the Scenic City for a reason. We are surrounded by mountains, and we're fortunate to have the Tennessee River running through our city."
The city attracts all types of outdoors enthusiasts for biking, hiking, kayaking and other water activities. "Our natural assets have been recognized by international organizations like IRONMAN, which we've hosted for both yearly and World Championship events in Chattanooga," adds Berke.
Click here to read the full article.
Published in DeSoto Magazine October 2018: Written by Jill Gleeson