Chattanooga, Tennessee is hands down one of the best paddling towns in the Southeast. From flatwater to Class V, the small mountain city has something for everyone whether it's SUPing through the Tennessee River Gorge, steep creeking down Suck Creek, or convincing one of your best friends to paddle the iconic Ocoee River for her first-ever paddle.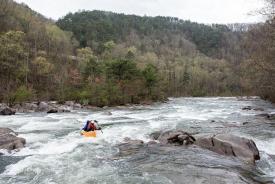 Glendra Craig grew up in Chattanooga and regularly visits her family, who all still live there. Reflecting on it, she refers to Chattanooga as "the town you can raise your kids in." She recounts days spent playing at Lake Winnie or hanging out with friends and family downtown, of course walking along the beautiful Walnut Street Bridge, and even now eating at the Aretha Frankenstein, and going to the Tennessee Aquarium.
But when I asked her about the town's outdoor culture, she just responded, "I didn't know there was one?" So, with the help of a couple of my local friends last weekend, Craig got to discover Chattanooga's wild side.
Click here to read the full article.
Published by Adventure Sports Network on April 19, 2018: Written by Charli Kerns