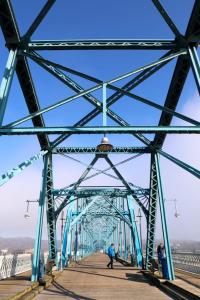 Exactly 50 years ago, the EPA declared—and Walter Cronkite famously reported on the "CBS Evening News"—that the city of Chattanooga had claimed the mantle as "the dirtiest city in the United States." Reports of cars running headlights day and night due to the factory-generated soot and smog painted a bleak picture of a town once known as the inspiration for the wholesome WWII-era song, "Chattanooga Choo Choo."
But what a comeback story Chattanooga has become! Transforming itself into one of the cleanest, hippest, and most effervescent tourism destinations in the country, Chattanooga blends its rich history, a gorgeous landscape, smart urban planning, and a fountain of artistic youthful exuberance to once again reign as a darling of the south. And do you hear that? That buzz coming from up I-75 is the sound of Chattanooga's burgeoning food scene, a breeding ground for young chefs with the talent and freedom to execute top-quality creative concepts.
Click here to read the full article.
Published by Encore Atlanta on February 5, 2019: Written by  David Danzig