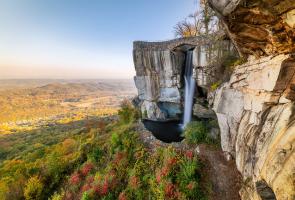 Everybody you know is going to the Jersey Shore or the Grand Canyon or Mt. Rushmore, now that the weather's warm. What do they know? Instead of falling in (very long) line at the same old destinations, check out this underrated coast-to-coast guide to make your time outdoors truly breathtaking. Mother Nature took time to create so many beautiful places -- you owe her to check them out.
Lookout Mountain; Chattanooga, Tennessee
Located just minutes from downtown Chattanooga, Lookout Mountain is the perfect spot for a quintessential Tennessee experience. Situated 2,000 feet above sea level, it's more than just a spectacular view. Find your way up to Rock City, where you can take a self-guided tour of its caves decorated with sculptures that dazzle under blacklight, or brave the 180-foot-long suspension bridge. Nearby Ruby Falls is a natural 145-foot drop, and just so happens to be America's deepest cave and largest underground waterfall accessible to the public.
If you want to get some climbing in, mark your map for the breathtaking "Lover's Leap" (we said it was more than just a spectacular view, not that you should miss that view). This is definitely a family-friendly destination, especially for those who value some good ol' Mother Nature and Mother Goose -- there's a village depicting the classic nursery rhymes situated in Fairyland Caverns.
Click here to read the full article.
Published on: May 15, 2017: Written by Jayme Lamm