Breathing easy in these nature-loving settings.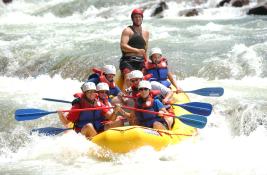 Of the reasons to feel #blessed, the abundance of natural beauty to be found in every U.S. state is up there with the best. Wild environs can challenge us and take us outside our comfort zones, but they also offer reasons to feel awe, solace, joy, and wonder.
We've looked all over the country to find the best places to access nature's gifts in every state, from majestic mountains to noble forests to serene lakes. With access to state and national parks, diverse landscapes, adventure activities, and a general appreciation for all things outdoors, these 50 places, broken up by region, are must-sees for anyone craving a slice of the peaceful life. The grandeur of nature is the best medicine for the daily grind, so we say get out there and heal thyself.
Chattanooga, Tennessee
Take on the upper, middle, or full Ocoee River with Cherokee Rafting just 40 miles east. You'll traverse beautiful gorge scenes as your blood gets pumping over guaranteed rapids. Rock climb, raft, kayak, or paraglide the area with Outdoor Chattanooga, experts at air, water, and land like the tabletop mountains and river valley.
Click here to read the full article.
Published by Expedia Viewfinder on July 25, 2017: Written by: Lily Rogers